Today, I am so excited that Suzy from Worthing Court is taking over the desk at Dogs Don't Eat Pizza! I met Suzy at a blog conference and, while I acted like a deer in headlights, she was kind and friendly to me. We've stayed friends ever since and I just think she's one of the loveliest people I know. So, without further ado, here's Suzy…
Hi everyone.  I'm Suzy from Worthing Court and am delighted to be visiting with you today here at Karen's place!
I've been doing the happy dance to celebrate the long awaited arrival of spring!  Gone are the gray days of winter and in their place are the magical reawakening days of spring.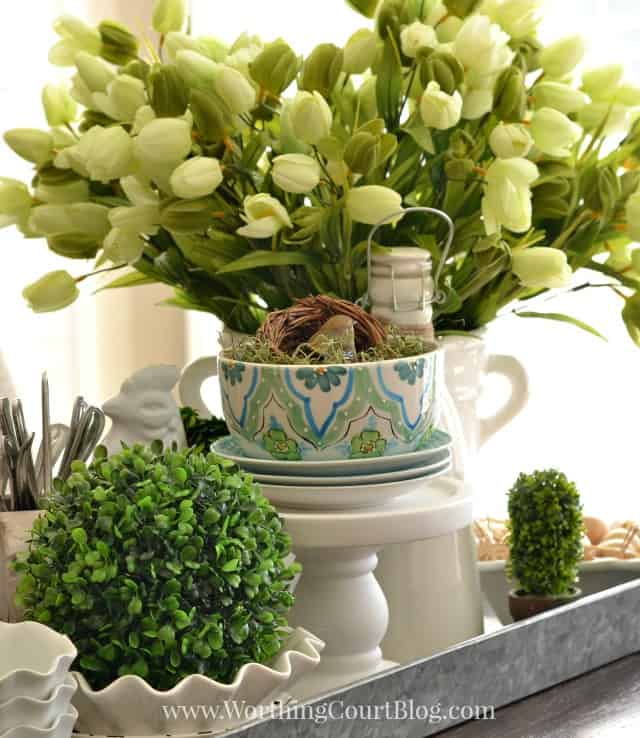 I started the spring celebration with a centerpiece on my kitchen table arranged in a Smith & Hawkins galvanized steel tray that I picked up at Target recently.  The tray fits my table perfectly – nice and long without being too wide or with sides that are too high.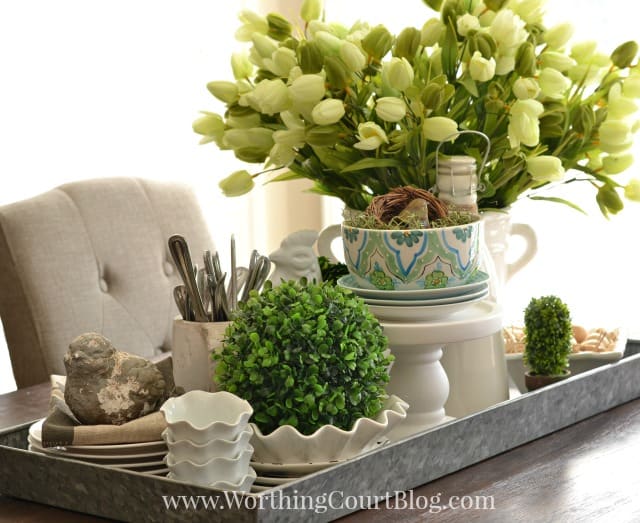 To put my centerpiece together, I raided my stash closet and kitchen cabinets for dishes, linens and silverware.  I didn't really have a plan in mind – I just started gathering things that reminded me of spring and combined some of them together.  Foremost in my mind was using lots of texture in my centerpiece.  Any decor without texture will fall flat every time.  Secondly, I made sure to include objects of varying heights.  The highs and lows help to draw your eye and keep it moving all around the centerpiece.  If everything was one level, your eye would tend to just skim over the whole thing.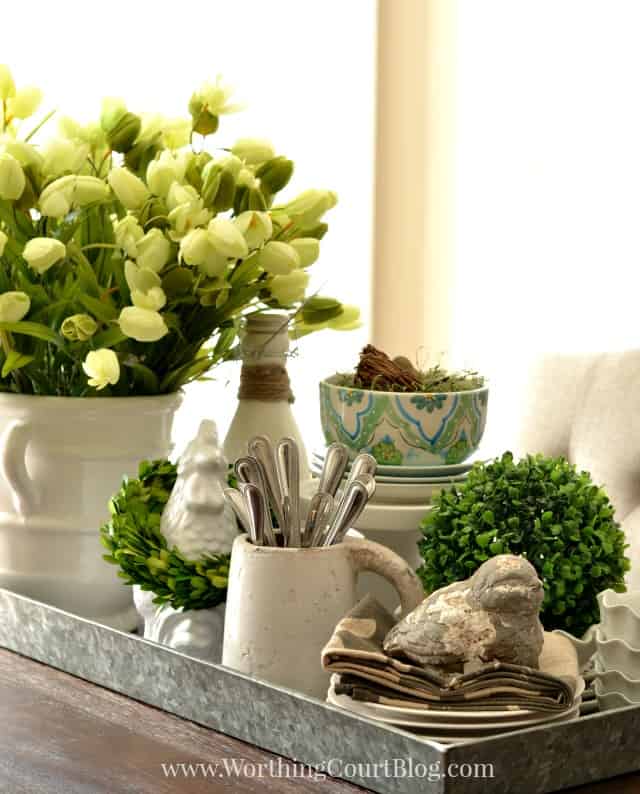 Besides the tray, the only thing that is new are the glorious tulips that I found at At Home (formerly Garden Ridge).  I couldn't believe how realistic they looked for the price.  My container has a very wide opening, so I added four bunches of tulips to it.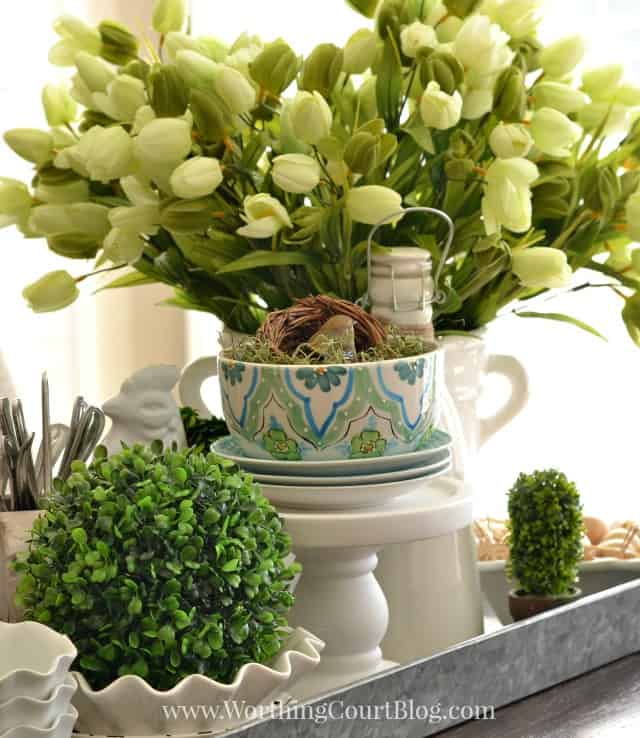 My chippy white bird is perfect nestled on a bed of linens on top of a stack of white dishes.  Every time I see that little bird, I'm reminded of how the movers just knew that I wanted to "throw that old thing away" when they were packing for our move to the new house.  I told them they were crazy and then they looked at me like I was crazy.  Ha!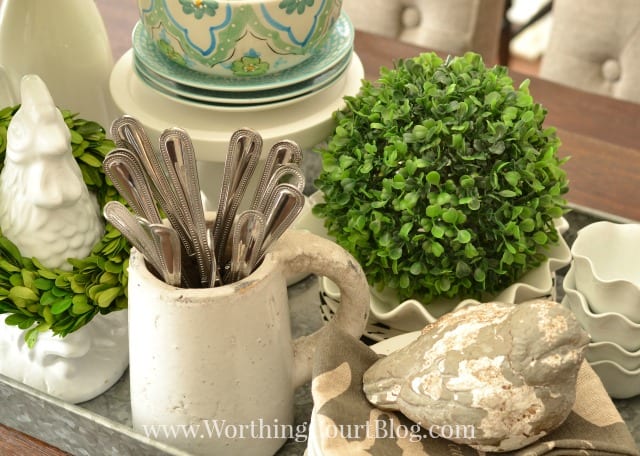 Another little bird is sitting on her nest ready to lay some eggs.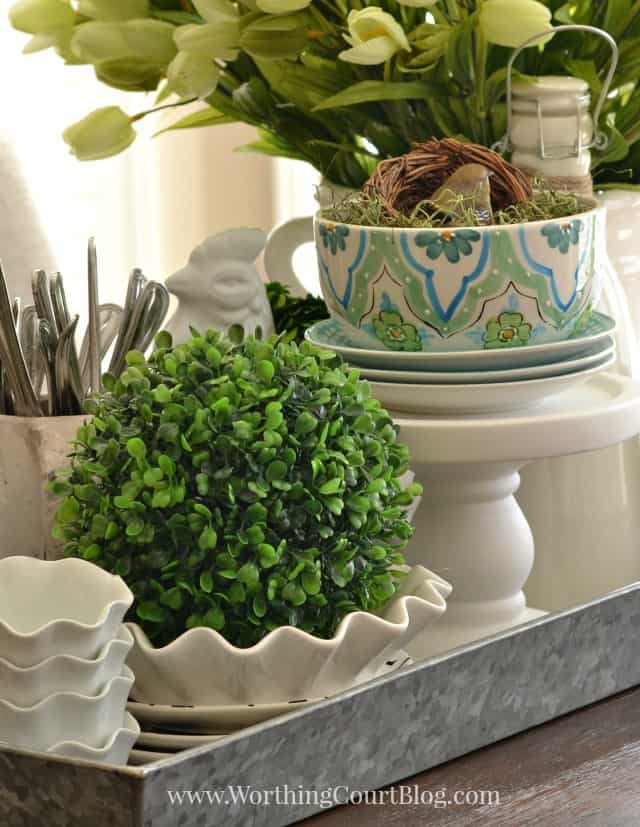 My kitchen table is one of the first things that I see when I come in from the garage and this spring scene makes me happy, happy, happy.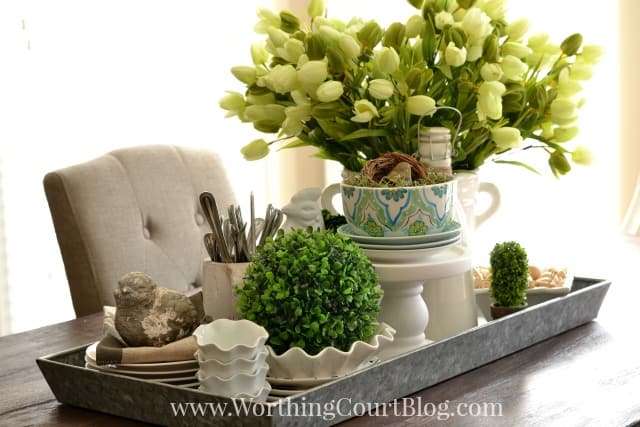 In case you've never visited me, you might not know that my hubby and I are finishing up renovations on a new-to-us house built in the mid 90's.  I'm having a blast reinventing the look from my former home, while still using what I already had.  I'm a big believer in that.  In fact my motto is, "Creating home doesn't have to be expensive and I'm here to prove it!".  Click HERE to see some of the progress that we've made.
You can take a look at my kitchen table, where the centerpiece resides in the breakfast nook  HERE.  I still have more projects to complete for this area, but this is what it looked like a few weeks ago.
Adding Farmhouse Style To My Kitchen And Dressers Aren't Just For Bedrooms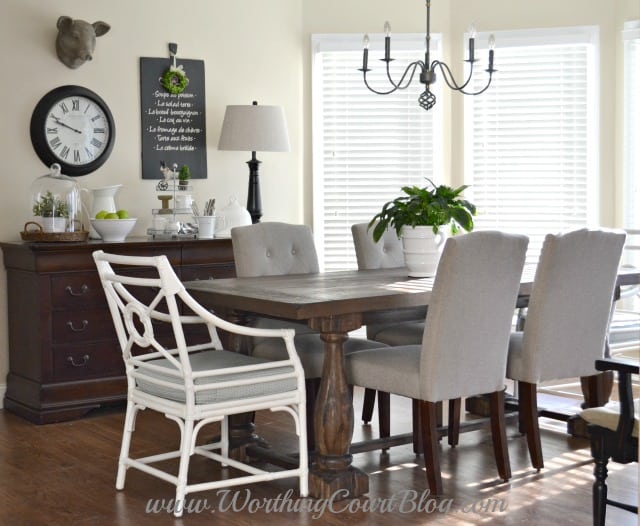 I added a bench with pillows and some DIY art on the other side of the table, which you can see HERE.
A Bench, Oversized Art And A Free Printable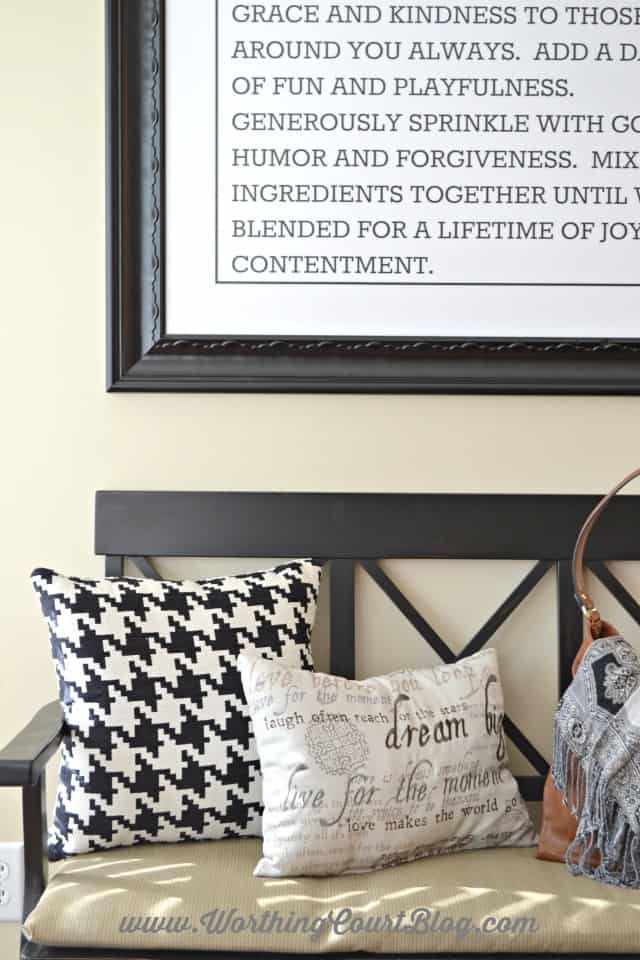 We're almost finished with our total kitchen reno.  Ask me how happy I am about that!
The Kitchen Is Almost Finished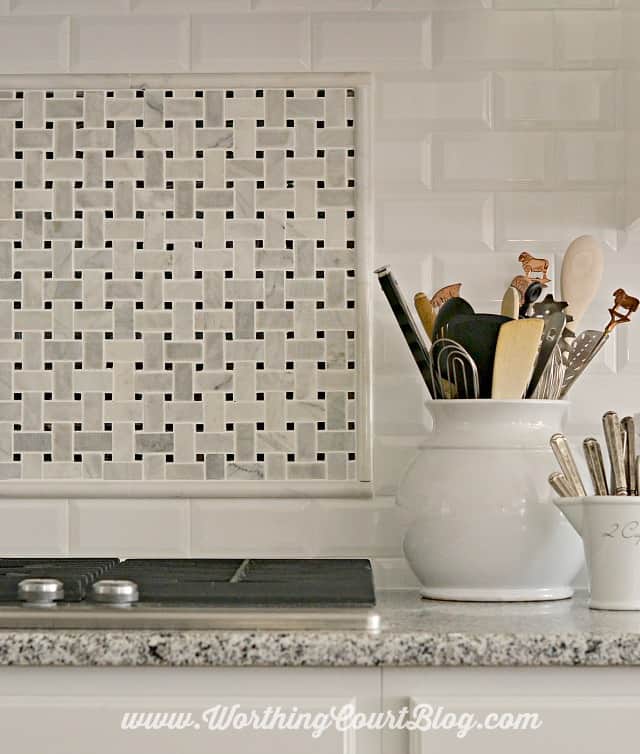 In addition to sharing my own DIY and decorating projects at Worthing Court, I also share crafts, home decor sewing and recipes.  I love helping you to solve challenging design dilemmas too.  In fact, you can see all of my project gallery by clicking HERE.  I'd love to get to know you and hope you'll come follow along!
Thank you so much for having me over for a visit today, Karen!